Freshworks gave us the privilege to be put in the spotlight in their monthly newsletter. In fact SMC Consulting, since the beginning of its partnership with Freshworks, two years ago has put every effort in its power to serve and delight its customers. This of-course went through the offering new and innovative solutions coupled with Freshworks suite of products.
Without further ado, below is the interview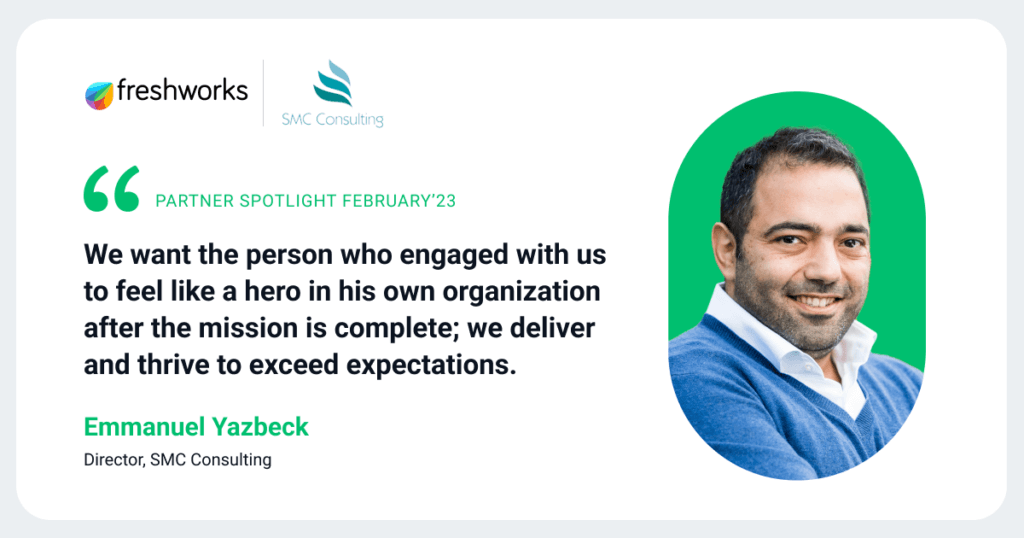 How long have you been associated with Freshworks?
SMC Consulting has been a partner since 2021.
Country/ Region & one interesting fact about your country.
SMC Consulting is headquartered in Belgium – Belgium's national symbol is the Manneken Pis (Peeing Boy).
Tell us about your organization – what is your USP?
SMC Consulting specializes in Data Science and Analytics and Customer Engagement with a focus on putting the customer first.
Our offer is aimed at fostering the success of our customers through the introduction of innovation along the whole economic digital chain. Given our knowledge of specific solutions and thanks to consolidated experiences, we provide highly effective solutions to companies in various industrial sectors.
What are the factors that drive you to recommend Freshworks to your prospects?
Freshworks products are designed to delight the customer. They feature a short time to go live, and a low total cost of ownership resulting in a high return on investment to the customers. Add to that the user-friendly interface that makes it easy and intuitive for users and administrators to take ownership of the tools.
What is a challenge that you've faced early on while pitching any Freshworks solution and how did you resolve it?
When we started selling Freshworks solutions, the brand was a best-kept secret. In our region, people confused us with another brand (HelloFresh) that sells food.
With time, and after due efforts from your marketing team, your notoriety has widened.
What's your approach to marketing or executing demand gen for 1H?
We believe in reaching out to the customers where they are. We have an active lead generation team. In addition to that, we communicate through the right channels about our success stories. That attracts a lot of customers who would like to replicate this in their own organization.
Watch out for this space above as we introduce a different partner to you every month. You could be next!